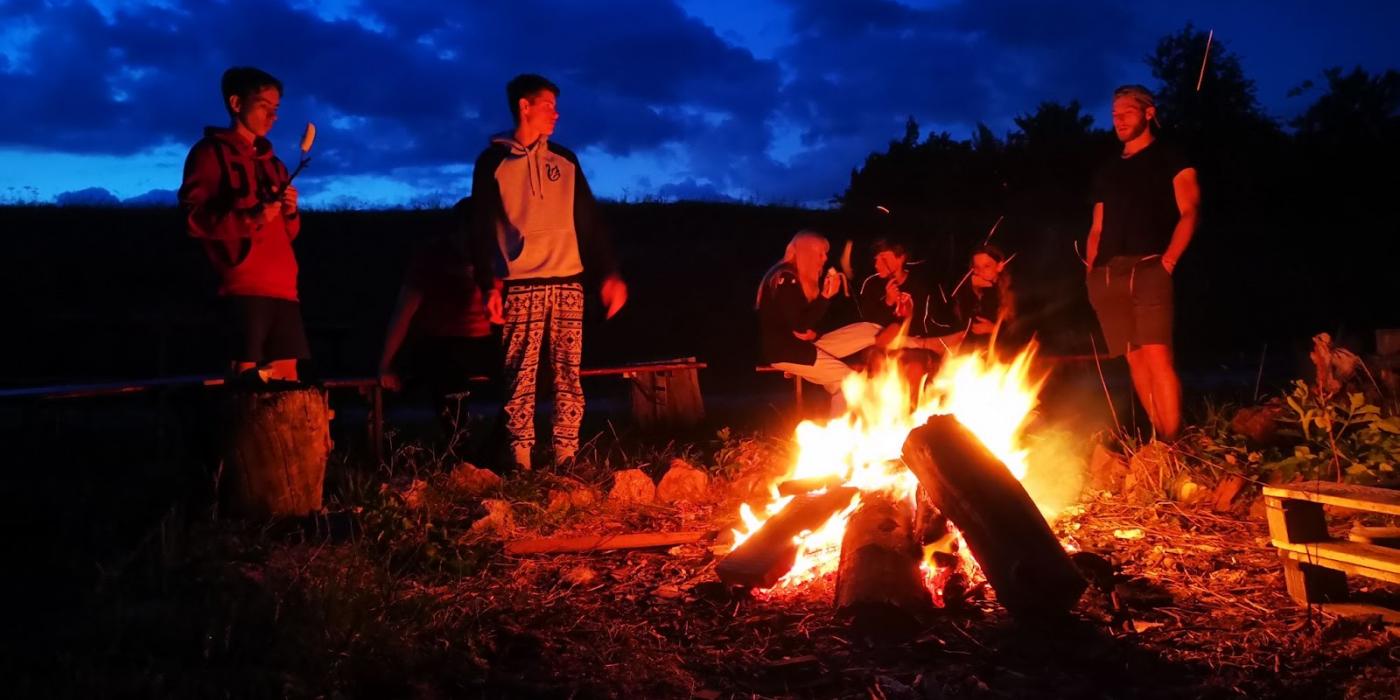 These are the lyrics of this year's anthem of our Logout Week. Partly for fun and partly serious the word Love in the text stands for all the digital devices that our youngsters had to give away on the train ride from Ljubljana to Radeče. For as soon as the devices were given away, our 6-day camp full of adventures, meeting new people and logging off began.
For the third year in a row our camp took place on Magolnik in a cabin in the middle of the woods, surrounded only by rolling hills, meadows and macadam roads. This year we had your largest group yet - 18 youngsters accompanied by 7 accompanying counselor and volunteers. As soon as we came to the cabin we unpacked, got settled and started getting to know each other. In these first moments some of us would employ the help of Rubic's cubes or UNO, while other - veterans form previous camps would use the time to greet old friends.
After our introductions we quickly started with our workshops. The next day we already had a Masterchef themed kitchen workshop where 4 teams made 4 different dishes. We also learned some cooking tips and tricks and tested our tastebuds with blind food tasting. The food was actually a big part of our camp, as we prepared it completely by ourselves and were regularly impressed by how good it was. The meat burek was my favorite. Without a doubt the best dish I ate in 2021. This is not a overexaggeration. Really.
During our daily activities we discussed emotions, reencated parent-child conflicts and tried to understand what the hell love even is. We also made some handmade bracelets, did some plaster masks and also wrote the anthem, which we sang as a band called Prešeren 2.0, despite the nervousness. By the way - Did you know that beechnut is edible? We didn't either, until Matej, our survival expert, shared that knowledge with us while also teaching us how to make fire using just cotton, ash and two pieces of wood. The whole process of making fire was described as black magic and till this day we aren't completely sure if it really wasn't.
Our evenings were spend by the fire playing different social games or going on a hike with torches where we confronted our fears of the dark. As is tradition for Logout camps, we also made an Escape room adventure. This time it was themed postapocaliptic with elements of nuclear bombs and old military bunkers full of government secrets. Some pleasant, some scary. All that matters is that they managed to escape.
After 6 days our camp full of new friendships and also new crushes came to an end when the love (meaning phones) was returned on the train ride back home to Ljubljana.
But the phones were not as interesting at that time. It's really hard to scroll through social networks while sitting next to someone you like. Maybe in the end the "love" was not taken away at the camp. Maybe we actually only just found it there. :)